Harnessing Nature's Purest Element for Healthy glowing Skin
Introducing Our — Weightless Waterboost Gel Cream
The unique formula of LM SOELLE™'s new WaterBoost technology comprises of (1) Blue Complex (2) Vegan Collagen (3) Hydrolyzed Hyaluronic Acid.
The new WaterBoost technology provides a stronger skin barrier and powers the skin's natural hydration to ensure intense moisturization in any circumstance. Experience the power of full repair and a hydration effect that goes beyond moisturizing.
BEST SELLERS
Discover our most popular products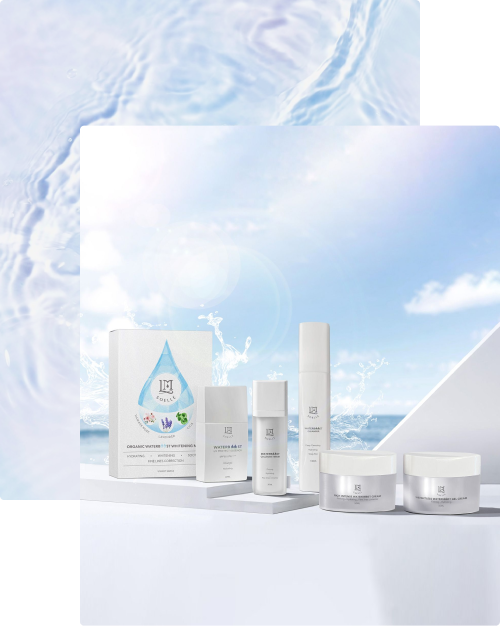 a new era of hydration
Our story begins with a water droplet in our logo, a tale of nature's purest element, water, which holds the key to unlocking the natural beauty that lies within every woman. We believe the key to achieving true healthy, glowing skin is hydration.

Drawing on our expertise and decades of professional knowledge in beauty and women's health, LM Soelle™ brings you products that are suitable for all skin types, highly effective, and without compro­mising the health of your skin. All our formulas are original, dermatologically tested, and have an emphasis on high-quality natural active ingredients.
Le Miracle De Soelle
attain natural radiance, free of impurities.
Le Miracle De Soelle
attain natural radiance, free of impurities.
weightless waterboost gel Cream
Contains proprietary naturally sourced Blue Complex™ & Vegan Collagen, this lightweight gel cream provides ultra long-lasting hydration while increasing collagen and skin thickness
waterboost Collagen Serum
A potent serum formulated with proprietary naturally sourced Blue Complex™ combined with Vegan Collagen. Its silky texture sinks into the skin without leaving residue to provide long lasting deep hydration.
IMPORTANCE OF HYDRATION TO SKIN
Water is essential to life and also our skin's beauty. Daily factors like Heat, cold, pollution, stress, sudden change climate / temperature / humidity calls for more than just moisture. Many skin problems can actually be quickly fixed with an added jolt of hydration. Hydration can even alleviate premature signs of ageing or other random skin breakouts that are not common to our particular skin type. Some quick problems associated with dehydrated skin are: