SIMPLE & EFFECTIVE
INDICATION
Healthier & Radiant Complexion
Comprehensive Defence against UV Rays
Improves appearance of dark spots
Value for money
Price and product guaranteed
Premium ingredients
Hand-picked by our specialists
Door step Delivery
Fast and Reliable service
Convenience
Hassle-free experience
SNOW RADIANCE
ACTIVE INGREDIENTS
PhytoflORAL (600mg per dose)
Polypodium leucotomos (500mg per dose)
L–Cysteine (300mg per dose)
PhytoflORAL
An award winning natural supplement using non-GMO tomato species rich in colourless carotenoids, phytoene and phytofluene. This patented combination provides superior whitening, UVA and UVB protection, anti-inflammatory and antioxidant properties.¹
Polypodium leucotomos
An effective chemophoto protective agent commonly known as the "oral sunblock". With both antioxidant and anti-inflammatory properties it inhibits free radicals in skin tissues that cause long-term DNA damage and photo-ageing when exposed to UV rays.²
Healthline Media. Polypodium leucotomos: Uses, Benefits, and Side Effects. Accessed on 21 September 2021
(Reference here)
L–Cysteine
A potent amino acid that has very high skin-whitening abilities. It prevents the production of pigment cells when the skin is exposed to UV rays and stimulates the production of Glutathione, another strong skin-whitening antioxidant.³
Dotdash Inc. - Verywell Health. What Is L-Cysteine? Last Updated on 25 August 2021
(Reference here)
1
Preferably after meals
2
Take 2 capsules daily
3
Vegetarian Friendly
Testimonials
Real Results
Customer Reviews
10/21/2021
Jessica

Singapore
Best whitening pill i've tried
No doubt, snow radiance is 1 of the best whitening pill I've tried so far. Been on it for around 6 months and saw drastic difference in skin tone and texture. Of course, I am fairer as well.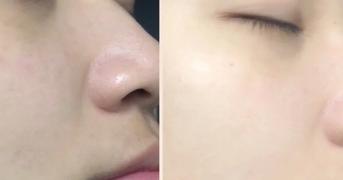 Clinical scoring of the skin quality was significantly improved in 60% to 86% of the panelists after 42 days and in up to 90% of the panelists after 84 days. 1
1. Liki von Oppen-Bezalel, Danit Fishbein, Fabien Havas, Olga Ben-Chitrit and Alain Khaiat. The photoprotective effects of a food supplement tomato powder rich in phytoene and phytofluene, the colorless carotenoids, a preliminary study. Glob Dermatol, 2015. Volume 2(4): 178-182
You may also like
Experience the magic of this water-soluble cleanser and attain a natural radiance, free of impurities.